dfmjjm@Bellsouth.net

Phone 931-389-9565 NIGHTS are usually better
You will find WE WILL NOT TALK DOWN TO YOU...WE PROMISE TO TALK TO YOU LIKE HOME FOLKS
We love the dogs but remember...... THEY ARE ANIMALS..................... NOT CHILDREN..our pups dont wear clothes!
Its easier to adopt a child from Russia than get a puppy off MOST American SHOW Border Breeders
I think we should be be promoting the breed instead of WORKING to keep it away from YOU. WATCH THIS UTUBE VIDEO : https://www.youtube.com/watch?v=cX5OuIsTzZ0
No Shipping

YOU MUST COME HERE TO PICKUP YOUR PUPPY...sorry I did not make the rule I just have to go by it..Blame it on G. Bush,Obamma or the Trumpet...or better yet Brandon..HA!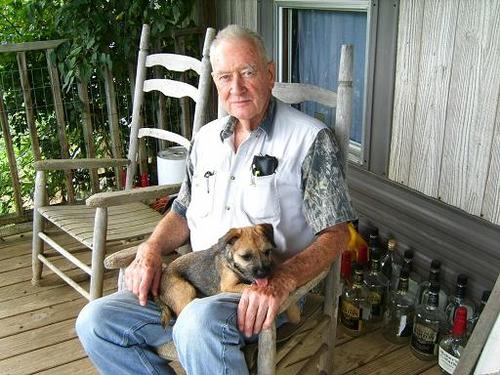 The late Henry Johnson ...My Border Terrier Mentor & Advisor. THANKS Henry for leading me to this wonderful breed.I think of him daily.

PLEASE READ BELOW THIS IS VERY IMPORTANT.
I hold pups with a $100 NON refundable deposit CHECKS ARE FINE FOR DEPOSIT....BUT I REQUIRE CASH FOR BALANCE AT PICKUP
WITH A SPAY / NEUTER AGREEMENT ...I encourage you to consider this before purchasing a puppy
ALSO remember..none of my pups are set aside to be used by show people. YOU get pups here that most breeders sell only for showing.SHOW KENNELS dont sell their best pups to pet homes.Pet homes are where their culls go.My pups go to their new homes in the order I recieve deposits.Theres been some misunderstanding about this so please read below...
If I have 4 deposits for pups and only have 1 in the litter the person that has sent the first deposit gets the pup. IF I have 4 deposits for pups and I have 4 pups..I send them to their new homes as I have recieved deposits..now if you want to PICK your pup come when they are still on the mom and pick your pup.Sorry but I cant hold an entire litter waiting til people get them in the order Ive recieved deposits.Thats the only way I know how to do it(?)Im open to suggestions. PLEASE PH me 931-389-9565
I do NOT ship and its always nice to have folks visit and see what they are getting and where the pups come from.
ALL CHECKS, PERSONAL, CERTIFIED BANK CHECKS, MONEY ORDERS , I REPEAT ANY CHECK will be held at least two weeks BEFORE a puppy leaves here. IF you come to pick a puppy up PLEASE bring CASH unless prior arrangements have been made
Help me here and save time TALK TO YOUR SPOUSE BEFORE CALLING ME.
Everything you see is current ....our Website was updated March 2020
PLEASE do not ask us to send pictures of puppys before they are around six to eight weeks of age...I see them daily and even I could not tell one from the other by pictures at that age.Its hard to make pictures of puppys esp if you dont have a fast camera.I have tried to put pictures of enough of my adults on the pages here for you to see what they will look like. Everybody wants puppy pictures but they will be adults a lot longer than puppys . If you like the adults thats what you go on.
Our puppys are wormed and will have had their shots up to date. We recommend the puppys have a total of four, three to four weeks apart.Most of the time they have had one or two before leaving our place...YOU need to make sure you continue the series.

PLEASE read this website VERY INTERESTING THOUGHTS > OLDCOUNTRYVET.COM Book tells how many people are spending unnesessary money in Vet clinics nowdays....Vets are FINE when you REALLY need them. But one of the worst places to take a healthy pup is to a Vet clinic......thats where SICK dogs go..NOBODY ever tells you that.
I also ask everyone that is considering a puppy to order this book...It will save you lots of money on Vet visits...in fact will cut out most of them